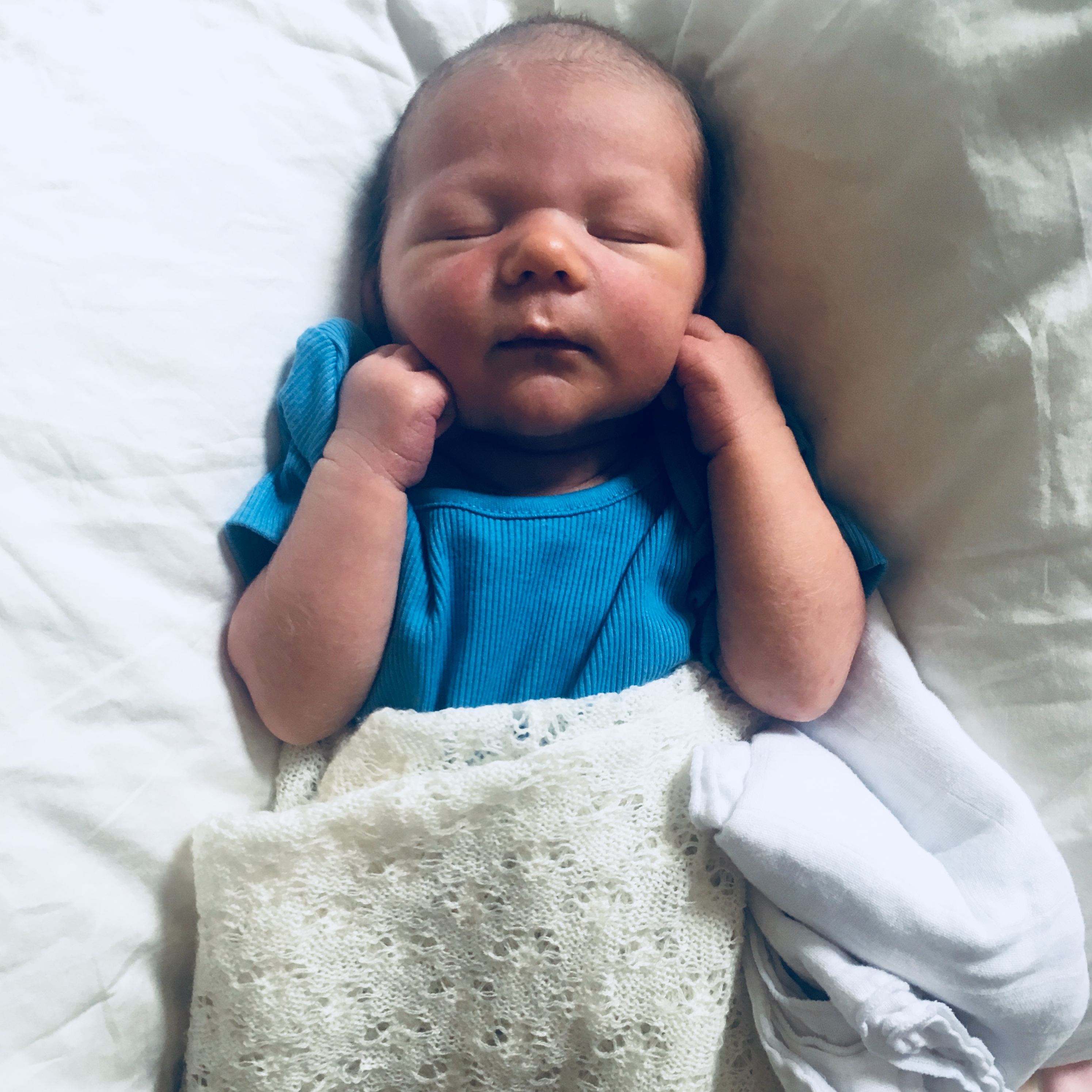 On the morning of Saturday 18thAugust,Erica, my midwife, came to visit us. I was ten days post due date and the anxiety around induction and the tough choices that needed to be made had been building since my 40 week appointment.

I was so pleased it was Erica that morning, as she said all the right things. We talked about the risks of going beyond 42 weeks and also the options for induction from the hospital.

We agreed that I would wait until the Tuesday 21stAugust (13 days post due date) to go in to be induced and then, as we were going in before the 42 weeks, we would have the option of having the baby in the midwife led unit.

Erica led this conversation with compassion yet gave honest information to help us feel informed. I also decided I wanted to have a sweep that morning which could help prompt the labour along if my body were nearly there already. The sweep wasn't uncomfortable at all and Erica told me she was confident my baby would come before Tuesday.

Before leaving, she told us that the absolute best thing we could do now was to relax, forget about the birth and go and have a really lovely day as a family - to spend some treasured time together as a three. And finally, after days of agonising, I did relax.

We went for a walk in Crystal Palace Park. I felt slow, heavy, tired. We came home that afternoon and decided that because we weren't going away for a summer holiday this year, we'd set up the tent in the back garden and cook dinner on the fire. It was a perfect summer evening together.

That night I woke at 12.30am with a contraction. It was fairly intense, so much so that it woke me and I had to sit up in bed and breathe through it. Afterwards, I lay back down to try and get back to sleep, knowing that would be the best thing for me to do. Less than ten minutes later another one came and this time I had to get myself out of bed, kneel on the floor and lean over.

I knew this was it, that it was happening for sure and that it was already progressing far quicker than I had anticipated. I woke Mike up and told him the labour had started. By 1am, I was out of bed, in the living room with the birthing ball and having strong surges. Mike and I agreed we should call the midwife. Erica called Mike back within minutes and after speaking to him and asking some questions about how I was doing she said she'd be with us within half an hour.

We kept the lighting very low in the living room and Mike lit candles, brought me towels and a cold, damp flannel. He then got to work filling the birthing pool in the kitchen. The surges were coming closer and closer together and were hard work - I had to lean over the ball and hum my way through them. But deep down I felt calm, totally calm and strangely in tune with what was happening. I knew that my body was birthing my baby and I just needed to work with it and accommodate what it needed to do.

The hypnobirthing had taught me this and the tracks I'd listened to were deeply ingrained in my head now! Erica arrived at about 1.30am and quietly slipped into the room. I was so pleased to see her and so delighted it was Erica on call that night as I felt confident I could put my trust in her. After 20 years as a community midwife in the Forest Hill area she had the wisdom of years behind her. Erica watched, listened and eased me through my contractions. She was quiet, busy recording and observing but gave the occasional considered assuring word- 'You're doing really well, Alice- well done'. Those words felt weighty and so poignant and I held on to them. 
As the surges increased in their intensity, I needed Mike with me to hold my hand when they came. Mike dashed in from the kitchen each time he heard them coming whilst frantically trying to fill the pool. I was desperate to get into the water now but it seemed like Mike kept telling me again and again it was just five more minutes! The surges were really hard now but I had read about how important it was to focus on the rests in-between - not the surges themselves. Those rest periods were so good and each time I thought I couldn't do it anymore and wanted it over, I just thought about how the relief was coming and I could pause and get myself ready for the next surge.

I moved into the kitchen and stepped into the pool at 2.15am - I remember looking up at the clock. The water felt so good - it held me and warmed my body, bringing real comfort. Although my eyes were mostly closed and I was focusing inward I could sense the room around me and the support I felt from the people with me. Mike was there in front of me, holding my hands during the contractions and pouring warm water on my back when they came.

Natalie, the second midwife, had arrived now. I'd been lucky enough to meet her at one of my appointments and she was bubbly, warm and hugely positive and confident. Erica and Natalie moved quietly around the room, Erica leading the observations and making notes and Natalie perched on the chair at the side of the room, discreetly offering occasional words of encouragement. It felt… safe. And the midwives brought that safety.

Despite my increasingly loud moans and groans they almost behaved as if I was making a cup of tea, doing the most normal thing in the world. I was so encouraged when Erica told me I was about ready to start pushing. Erica talked me through what to do, telling me when to pause and relax and help the baby to emerge gently and slowly.

I found this stage the most overwhelming, but the short words of advice here were like gold dust. Erica told me to 'Let it happen'- which made so much sense. Not to confront the pain but to let it roll over me, because that was my body birthing my baby. And Natalie told me simply 'Drop your shoulders, relax…' between contractions, reminding me that my body would be supported best to do what it was trying to do if I let go of tension. I'll never forget those two phrases! And so, after about 15 minutes of pushing baby was born into the pool at 3.05am.

Erica scooped him up in her arms and handed him straight to me- a boy! I couldn't believe it, he was safely here and in my arms at last. It was wonderful and Mike was right behind me cuddling our baby together. Florence had slept through the whole thing - her bedroom literally next door to the kitchen. She woke an hour later hearing his cry and tiptoed into our room to meet her new baby brother. After all the anxiety I had going post due date it now couldn't have been a more wonderful birthing experience.