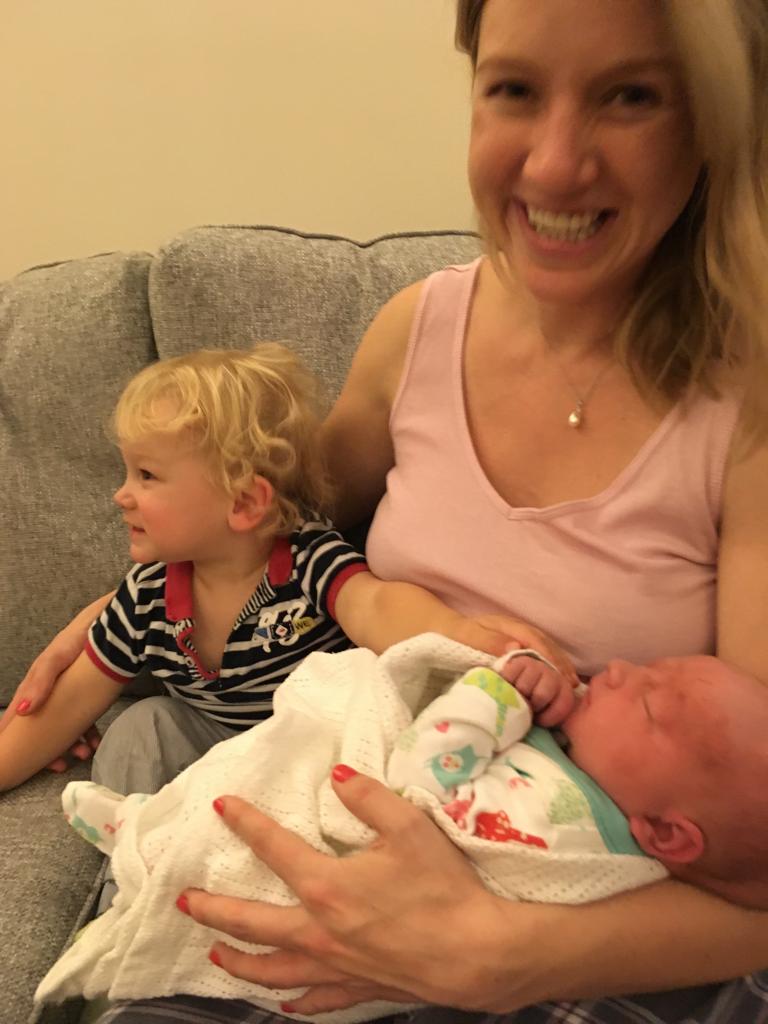 My first labour with my son lasted three days. The baby was back to back, I had to have 6 hours of syntocinon drip due to slow progress and only dilated to 4cm. He eventually got into distress and it ended in an emergency Caesarean section. Whilst I was delighted that he was fine and healthy, I found the recovery hard as I had an infection, and so second time around I was keen to try something different. I kept going back and forth. On the one hand I wanted a planned C-section due to the ease of organising it and not having to go through labour again. On the other I wanted to try to give birth normally because it was an experience I really wanted to have and because for me I felt it was the braver decision.

At about 6 months I decided to go for it. I saw a statistic that said 90% of people are eligible for a VBAC but only 10% try, and I wanted to be part of that 10%. As a coach, I support and challenge my clients to take smart risks, and giving it my best shot was in line with my values and who I want to be. 


In the end my birth story was pretty straightforward. Despite having a disagreement with my consultant about having an unfavourable cervix and not wanting a sweep as was before my due date, I had minor contractions the same day from mid afternoon, and in the evening we settled down to watch a cheesy Christmas film.

The contractions started to ramp up about 10pm and. I found myself needing to lean over the sofa for some of them. I decided to sleep in  another room to let my husband get some rest and the contractions continued through the night whilst I breathed.

At about 1am, we called the midwife and she said to continue doing what we are doing, as they weren't yet long enough in length. Around 3am I noticed a shift - the  contractions getting much stronger and it was like I was entering a different phase. I think one of the books talks about first room and second room and I did really feel a change.

My little boy woke up around 6.30am and was collected by his grandparents around an hour later. And then suddenly everything ramped up. I felt like I could really let go and I started being much more vocal with more primal noises. Our doula, Zara arrived and said to call the midwife Heather as it sounded like I was bearing down.

She arrived after 8am and from there on in she just sat quietly and enabled me to get on with it myself. In hindsight, by doing less, she actually did more.

Zara massaged me with aromatherapy oils and my husband came in and let me squeeze his shoulders for the tougher contractions. After about an hour or so I started pushing and also felt a need for more energy. Zara gave me a couple of spoonfuls of honey which was just the boost I needed. I continued to push and Heather suggested I get up from the all fours position I had been in the whole time and stand up over the bed to help use gravity, and open my legs wider.

This was the only suggestion she made in that whole time and it was very much offered to see if it worked for me.  Zara used a rebozo scarf wrapped around my tummy to help shake from side to side and help ease her out also. Elsie Jemima Davies was born at 10.09am in the superman position – with her arm up by her head. She came out all in one go and literally flew into the world! 

After the birth I held her in my arms whilst we waited for the placenta to come. I was happy to have the injection but Heather advised as I hadn't bled much to wait a little longer. Within 20 minutes of sitting of the loo it was out and we'd managed to have a birth without any medication at all – it hadn't occurred to me to put the TENS on or ask for gas and air at any point as I didn't feel I needed it.

During the birth there were times I doubted myself. I felt like the pushing stage was taking too long and I wondered if I would need intervention. To be honest I had doubts all the way through pregnancy if I would be able to do it. However, I felt amazing afterwards, like I could honestly do anything I put my mind to – quite like wonderwoman! It made me realise again the power of listening to my body and intuition and I couldn't quite believe I had done it – it felt so surreal. 

If you, like me have doubts as to whether you can have a VBAC – I hope this helps share that it is possible, and you can do it. Trust your body – it knows what to do.  Things that I did that helped contribute to having a VBAC (in order of impact for me) : 

Hired a doula – I knew instinctively that hiring a doula would help me, and once I spoke to Zara (www.doulabud.co.uk) from very early on I felt safe with her, and hugely appreciated her positive and open mindset. Zara helped me address my fears, answered my many questions and encouraged me to think about a lot of the things I hadn't had time to address with a life loving toddler.  It was someone to talk to throughout the process leading up to birth, help me work out the best place to have Elsie, have soothing massages in labour, squeezing my hips through contractions and being there after the birth to help me shower, rest and fed me up to provide the calmest, joyful experience. She is by far the best money I have ever spent. 

Hypnobirthing - I went to a one day course, which wasn't hugely useful. But listening to the tracks every night before I went to bed from about 28 weeks really contributed to my calm state and the belief that I could do it. I rarely stayed awake more than 5 mins into the tracks but clearly they had an impact! 

Having a home birth – I really believe that the environment you give birth in can make all the difference. For me I felt safest at home in my own space and this helped me immensely. A couple of months before the birth I switched to to home birth team after speaking to Tanya, a wonderful, wise and supportive senior midwife who gave me the confidence that I could do it. The team of midwives from Surrey Hills Home Birth had a very different mindset from some of the more medical midwives and I felt confident they would support me in a very different way. There was no rush during the birth and they gave me the space to birth Elsie in my own time. 

Trusting my body – I realised that there was nothing I needed to "do" to give birth. I didn't need to learn how to go to the toilet, my body naturally knew how to do that – in the same way that I learnt to let go that my body knew how to give birth too. 

Visualise success – Despite not fully believing in it, I decided to try visualisation and wrote out the text I would send to my girlfriends after the birth, imagined being in our bed as a family having a cuddle soon after, and wrote out all my fears and challenged them with actual evidence for and against. 

Researched – I read about seven books to understand the risks of VBAC and also how to have an efficient calm labour. It meant I could challenge medical professionals when things were initiated that I didn't want (e.g. sweep before my due date) and also be aware of the risks and my own appetite for them from a number of different sources. I would highly recommend – AIMS VBAC Book, How to Have a Baby – Natalie Meddings, and Ina May Gaskin. I also contacted www.tellmeagoodbirthstory.com and spoke to women who had had successful VBACS to understand what helped them also, which was incredibly useful in realising I could do it and helping shape my decision about having a home birth. 

Ate dates – from 38 weeks I ate 6-8 dates a day to help dilate more effectively and quickly. 

Had body treatments – At times in pregnancy I went to see a reflexologist for back pain and saw the osteopath about four times to help loosen up tight areas. These helped me relax and greatly eased any pain I had. I also did perineal massage which I think hugely contributed to no major tears. 

Raspberry leaf tea – I drank 3 cups of this a day this from about 36 weeks and whilst I don't know how much it helped me have more efficient contractions, my uterus shrank back in what seemed like a couple of days, so I think it had an impact! Much much quicker than last time which took weeks. 

It's natural to have doubts about whether you can have a VBAC, and I had doubts all the way through.  Today though I can honestly say its one of the proudest moments of my life.  I listened to my body and did everything I could to support myself in the way I felt I needed, even going against my husbands preferred approach at times. I realised that only I could birth this baby and therefore I needed to do what would work best for me, to work best for our family. I am so grateful for the beautiful presence of our amazing midwives Tanya, Heather & Emily, and our wonderful doula Zara.  We had the most beautiful, calm and joyful birth of Elsie, and we are forever grateful for their support and love in bringing her safely into the world.