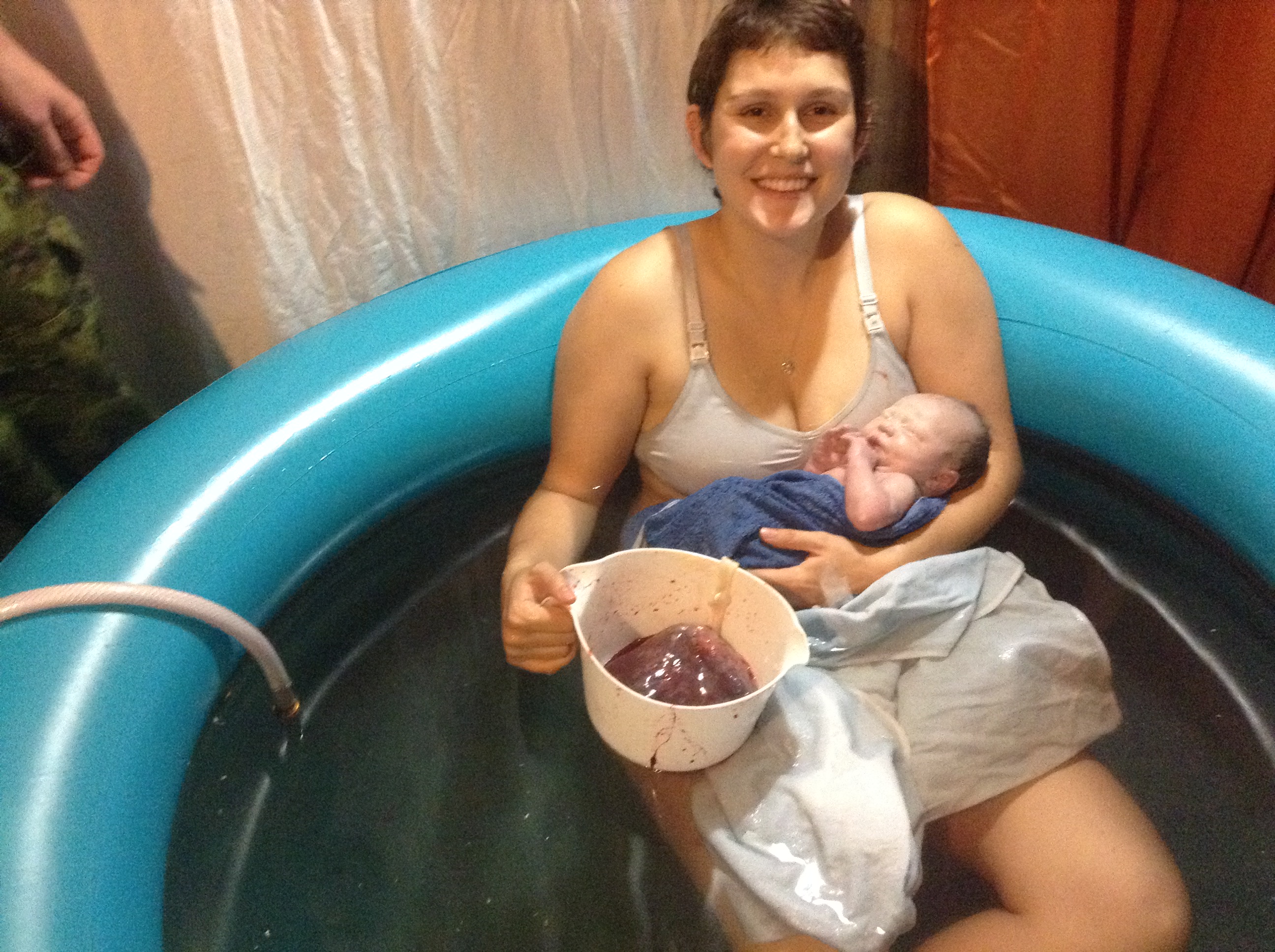 I have had 3 home water births with amazing midwives by my side each time. 
For my first birth at home, I did a lot of research, lots of documentaries and such to prepare. I rented a birthing tub from a local doula, we set it up in our living room (just under the window air conditioner) as I was due in mid-August.

Baby decided to come 13 days early, the day after the birthing tub was dropped off. The midwife came once active labour had established and I jumped in the pool as soon as I could (about 5 cm) and spent the next 9 hours (of my 11 hour labour) in that glorious pool!

I was never afraid. I had family who'd given birth at home so it was normal. I knew it was going to be hard, but it was not going to stop me. For hours, as I laboured with the help of my support group, my midwife watched from afar and spent a bit of time reading a copy of Ina May Gaskin's Guide to Breastfeeding that I had out on the table.

I had 2 cervical checks in total, I was encouraged to listen to my body. When I felt like I needed to push, I did and maybe 2 contractions later, my baby boy was tucked in my arms. The intensity of the labour came to a screeching halt once baby was born and discomfort was the last thing on my mind. The first thing being that I wanted a shower.

My second birth was in January. It was blizzard like conditions, so obviously I went into labour. The midwives got to my home just as they started telling labouring women to head to the hospital as it would be too dangerous to have the midwives on the roads. I was the last one to be allowed to stay at home.

The tub was delivered a week early this time as we anticipated I would deliver early (15 days early to be exact) so it was all ready to go. I was having trouble labouring with my first child, now a toddler, playing nearby. Once he left for his nap, I laboured quickly and hard and in less than 6 hours, my daughter had graced us with her presence.

This birth was so much less intense, I was eating pop tarts while in labour, laughing between contractions in transition. The only thing that I really did not enjoy and made me consider kicking the midwife in the face was when she reached in to release a nuchal cord.

It was loose and I had discussed with my primary midwife to let it be, this midwife was my secondary and we had not had the opportunity to discuss. Again, the moment my child was born, I was up and going to take a shower while they did the newborn exam on the dinning room table. No one tells you how to empty a birthing tub in January. This was a fun experience.

My third birth was very different. As opposed to having my waters broken at 8cm, my water broke 3 hours before contractions or labour started. I had enough time to get everything set up, it was 14 days before my due date, so right on schedule, and we just needed to fill the pool and call the support people.

Once contractions started, they were less intense than previous labours, I was joking while contracting for a really long time and wondered if I was making any progress whatsoever. I requested a cervical check which indicated I was 8-9 cm dilated, and this was nearly over. I laughed! I was eating a cinnamon bun, relaxing in my tub and nearly at the pushing stage. Water was my best friend! I barely pushed my baby out as my body would bear down on its own. We chose to not cut the cord until after the placenta was born with this birth, and again, as soon as the placenta was free, I was running up the stairs to take a shower!