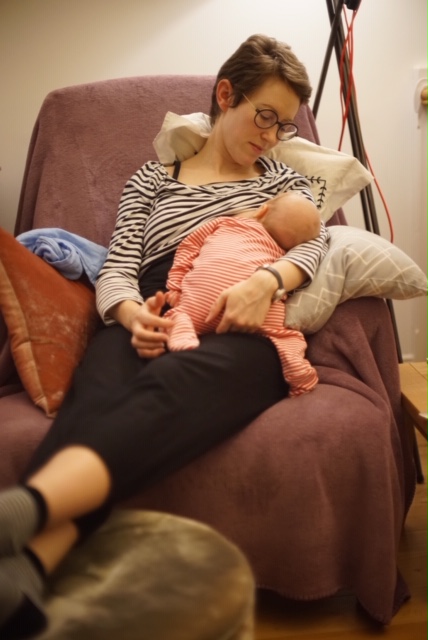 My waters broke with an undramatic trickle on Monday evening at the cinema, but contractions didn't start. I went to bed expecting them to get under way during the night, but I woke up the following morning after a long sleep, refreshed, but without any change. I had my 41 week midwife appointment later that morning where she confirmed that my waters had broken and said that I should call triage at the hospital. They asked me to come in for monitoring, so we stocked up on bakery snacks and packed the car in case we were kept in. 

The midwife said that risk of infection to the baby was increased with PROM (premature rupture of membranes) and that they normally offer induction in such cases. I was quite firm that I didn't want to be induced that day. In any case the monitor had detected a number of contractions (though I couldn't feel them) so I was confident that things would progress on their own. After booking me in for an induction the following afternoon, she agreed that I could go home, providing I monitor my temperature overnight and call triage if anything changed.

That evening contractions began gradually building. I went for a long walk by the canal, watched Bridget Jones' baby and ate a fish supper. I used the yoga moves (particularly on all fours and swinging and dipping the tummy) and deep breathing and let each contraction wash over me. I went to bed at 11 pm, made myself comfortable with plenty of cushions and lay down to rest.

It was at this point that labour got into full swing so there was no chance of sleep, with stronger contractions coming every few minutes. The all fours position was no longer comfortable, so instead I knelt against the bed, swaying my hips, and breathing in the lavender oil that Natalie Meddings' book (How to have a baby) had suggested. The deep breathing was powerful and I kept returning in my mind to what my yoga birth teacher Louisa had told us. She'd said be in control of your birth, that it's not something being 'done' to your body, and by extension, although it was intensely painful,  I didn't need to 'suffer' through it. 

At 5 am I woke my husband who had been sleeping in the next room and asked him to attach the TENS machine. After an hour or so I knew it was really time to go to hospital as I was beginning to feel the need to push. 

At the hospital we were seen on triage. I was entirely focussed on labouring, so quite unaware of all the decisions and discussions that were going on around me. I had wanted to go to the birth centre straight away but because of the PROM they wanted to monitor me first to decide whether I would need to be on the labour ward.

I initially refused an examination, but the midwife returned to say that they needed to know how far along I was in order to decide about where I should be sent. I was 9 cm and I wanted to push - she said I should go with what my body was feeling - this was such a relief and it helped ease the contractions as until then I had been fighting the urge. 

We were eventually transferred to a room on the labour ward where midwife started to run the water in the birthing pool - I could feel that there would be no time for that!  I knelt against a chair and pushed with each contraction. This was such an amazing experience as I could feel every movement as my baby moved down. I turned off the TENS machine at this point as I didn't feel any pain. The midwives got me on the bed for delivery on my side to help baby through and after two more contractions he was born. 

The positions and mindful approach that I'd learned at my Yogabirth class combined with my reading of Natalie's book 'How to Have a Baby' really helped to prepare me and empower me to birth my little boy - Tean James Frost .
Since then it's been a whirlwind of learning, feeding, (not) sleeping. He's now almost 8 weeks and doing well and I'm looking forward to starting the postnatal yoga classes this week!