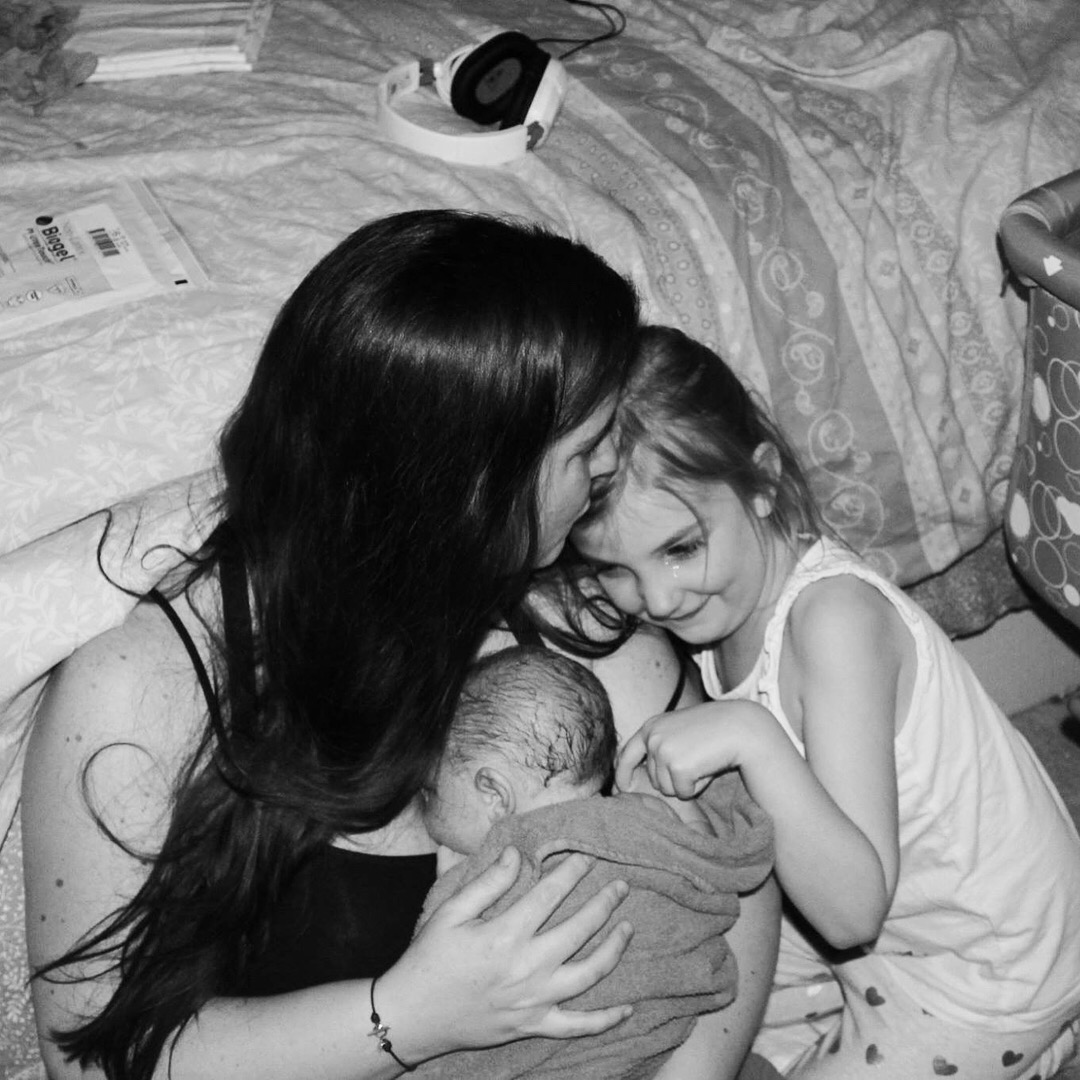 I had my third baby, Oakley, in November 2018. During my pregnancy I was diagnosed with GD and it led to an extremely stressful pregnancy. 
The home birth was a wonderful, empowering, positive experience that was more than I could ever have hoped for. 
But it was very hard won. I had to fight the NHS constantly until I was 36 weeks pregnant as they kept refusing to support me. Despite the fact the decision was mine to make. 
At my booking in appointment they knew my name and weight and without knowing anything else about me they refused me a home birth. And so the battle began. 
It was very important for me and my family as a whole that we have a home birth (unless there was a medical reason not to). We had many many reasons for wanting a home birth.
My second baby had been born at home with an independent midwife, in a very quick labour, weighing 9lb14oz. 
When I was 28 weeks I was diagnosed with gestational diabetes. I panicked initially but after doing much extensive research and managing to stay completely diet controlled (I didn't have even one high blood sugar reading) I realised that a home birth was still perfectly reasonable for me and MY situation. 
Unfortunately the NHS disagreed. The next month was extremely stressful with me trying to show them I was making an informed decision and with them constantly telling me I wasn't 'allowed' a home birth, with no explanation as to why it wasn't suitable for ME. 
After a particularly painful telephone conversation in which they used sweeping statements to try and coerce me into a hospital birth, I broke and my husband and I instead booked with independent midwives.
This was hands down the best decision we ever made. We've stretched ourselves financially but it was such a relief to meet our midwife Emily and realise that we were going to be supported to have the birth we wanted. My stress levels reduced immediately and I finally began to relax for the last few weeks of my pregnancy. 
The due date I had given myself was 5th November. A private early dating scan agreed with this date. However the NHS put me as a due date of 29th October. 
I started to have contractions on the 5th November (which incidentally was my other son's 5th birthday). So whilst my son opened his birthday presents, I began to realise that today would be the day! 
Contractions were mild and were 20 minutes apart, so we continued with our plan of heading to soft play. We got there at 10.45am, and I took the chance to text my midwife to let her know I was in early labour. 
Shortly after contractions sped up and were only 7 or 8 minutes apart.
As my labour with my second baby had been two hours from my first contraction to his arrival I decided we should head home.
I felt bad for my son as we'd only been at soft play for 30 minutes, but he is a trooper and didn't complain at all. 
We went home via the McDonald's drive-thru as a treat for Grayson's birthday lunch. I honestly never thought I'd be going to a McDonalds when I was in labour! The things you do for your kids! 
After the kids ate their lunch, I retreated to the bedroom and we called the midwife and asked her to come over as she lives an hour away. Contractions were building up but were still manageable and in between I felt perfectly normal and could move around doing other stuff, which wasn't something I'd experienced in my other two labours. 
Our lovely midwife Emily arrived at 1.15pm. I was still relaxed and managing well, contractions were now 2 minutes apart. 
I checked my blood sugars and the midwife listened to the baby's heartbeat, took my temperature and my blood pressure and that was it and all was fine. I didn't have any vaginal exams as it wasn't necessary. 
My waters hadn't broken yet (my other labours started with my waters breaking) and I could really feel them with every contraction, the pressure was intense! 
I had my pregnancy music playlist on in the background and my 7 year old daughter was sat on the bed playing games on her iPad. She's very protective of me and so didn't want to leave my side. I'm generally very quiet during labour so I knew it would be fine. My husband was in and out of the room checking on things. And then one of our friends came over with her son to keep Grayson entertained during the labour. 

At 2.25pm things kicked up a gear for me and the contractions were more intense. The pressure from my waters still being intact was huge and I was desperate for them to burst! 
Simon sat with me whilst I sat on my birthing ball, leaning on the back of a chair and I would pull on Simon's hand during each contraction. 
My midwife Emily was very unobtrusive and checked on me periodically but didn't interrupt me or demand anything. She was awesome and I will always be so grateful to her. 
After a while I knew things were changing. I came off the ball and knelt on the floor, leaning on the chair. I told Simon to get Emily as I knew it wouldn't be long. He told me she was there but she was so quiet I didn't believe him and so I called for her! But she was right behind me. With that my waters broke. Finally!
And as soon as Emily checked, she said she could see the head. She calmly asked my daughter Miley to run downstairs for Jo, the second midwife. 
Afterwards Miley said she ran downstairs and got Jo, but then raced back upstairs as she was so worried she would miss the birth! When we said she probably should have let Jo go upstairs ahead of her, she answered with 'why? Jo has already seen lots of babies being born and I'd never seen any, so I needed to get there first!' 
I didn't push at all. I just breathed through the contractions and the baby's head was out. A minute later another contraction hit and I gave a small push and out came my baby boy at 2.59pm. 
I knelt backwards and picked him up against my chest, then I sat back leaning against our bed and we were wrapped up in towels. 
He was a bit congested initially as he had moved through the birth canal SO fast that it hadn't cleared all the mucous out. But it wasn't a problem and you could hear that he was clearing it. 
It was such an emotional time. My 7 year old daughter was crying happy tears, and my 5 year old son came into the room to see his new baby brother. It really was so lovely to be surrounded by my little family. 
We waited for the cord to finish pulsing which took about 40 minutes. This whole time my daughter was asking when she could cut it! 
So with assistance from her Dad and our midwife, my daughter cut the cord for her new baby brother. We used a clamp at this stage, but later on we used a cord tie and removed the clamp. The tie was SO much nicer over the next few days. 
Our baby boy had cuddles with his dad whilst I went to the bathroom to try and birth the placenta. It took a little while and the midwife gave a small pull on the cord and it came away immediately. This stage took about an hour. 
It's always such a relief to be done and to be able to get cleaned up and settled. 
I was examined by the midwife and was lucky that I just had a small graze that didn't need stitches. And I had very minimal blood loss which was a relief too. 
I got into some pyjamas and got settled on the bed with my new baby boy and my daughter sat next to me. 
He latched on really well and fed for half an hour. 
Man those afterpains are a killer! I knew they got worse with each kid, but I was still shocked by how bad they were! 
Oakley was great and had no signs of hypoglycaemia at all at any point. His colour and temperature was good, he was alert and he fed really well. 
Whilst I was feeding, the midwife examined the placenta, and my daughter was her assistant. She put some gloves on and sat with our midwife whilst she talked her through it and explained all the different parts etc and what she was looking for. Miley was fascinated and took it all in with wide eyes and me and her dad just watched her with wonder as we hadn't expected her to get so involved!! 
Our two midwives, Emily and Jo, really were fantastic at involving the kids and especially with Miley they really tried to make sure she was involved and comfortable and would answer any questions she had. And she had a LOT of questions, so she really put them though their paces. 
So we were done, we had become a family of five in what felt like the blink of an eye. 
It was a great experience and I'm so glad that I fought for our home birth and so glad we booked with private midwives eventually. 
Emily was an amazing midwife and having her provide our postnatal care in our home has been wonderful as well. I had bad postnatal depression after my second baby, but I didn't have it at all this time around and I truly believe it was down to the care I received during labour and across the following month. 
She was so supportive and empowering and knowledgeable, I felt very safe in her care. We were very sad when we had to say goodbye to her. 
And the birth experience for our family as a whole was priceless. My daughter talks about it everyday and is so proud of herself for cutting the cord. 
I'm honestly sad it's over and think back on it often. After a tough pregnancy i couldn't have ever hoped for a better birth.