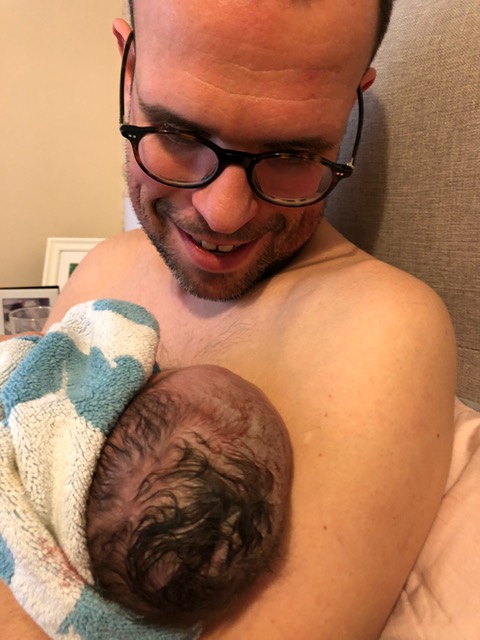 I am very blessed to have given birth to three beautiful boys. Each birth has been different in its own ways, but all were really positive experiences and pretty straight forward too. 

So I had wanted a home birth with my 2nd child but it hadn't ended up that way, which made me all the more determined to manage it the next time.

Friends were regularly asking if I was fully prepared; was I having a pool, where I did want to be when baby finally arrived etc... and my feeling was always the same - I don't know I'll just see how I feel at the time. I think it came as a surprise to them as I normally like to plan everything to the smallest detail; but I had total trust in my body to guide me and that I would simply behave how I needed to without any elaborate plan. We had plastic sheets and old towels and that was it really. I would often say, "I want to be like a cat, I'll retreat somewhere quiet and private and just do what needs to be done."

So I awoke about 7am one morning, a few days before I was 'due' and within moments my waters had gone. Full on popped! No changes in moment and no discomfort at all so i contacted the labour ward to let them know but then it was business as usual. As a precaution my husband rang work to say he might be late and just stayed around for a bit to see how I was. 

We walked my eldest to school as usual, reiterating the well rehearsed 'the baby might come soon' plan but not actually saying my waters had gone. Baby 2 arrived quickly but we didn't like to assume this one necessarily would too. 

On the way back about 9am I got a twinge. Then another very noticeable one a surprisingly short time later. I called my midwife who confirmed she could be there at the birth as planned and would be there in due course with the student, and the 2nd midwife would be contacted. 

I pottered around the house as the surges were building up nicely. Made a cup of tea for the hubbie, tidied away breakfast. All very boring really. When the MW arrived I was starting to feel each surge more strongly and i remember a distinct need to keep upright and moving. I would perch on the sofa arm to natter for a bit and then walk into the kitchen, totally alone, when the next surge came. The need to be alone was totally instinctive. This continued for an hour or so. There was no question of being examined, they knew I was in control and allowed me space and peace and time. 

Then the moment came for me to go upstairs. It's hard to explain but I just knew I had to move. Things were moving forward and that was where I wanted to be. Getting up those stairs was sooooo hard! But I did it. Then I was hot. So hot! So I stripped down to a lightweight nightie. All the time walking and pacing and breathing and feeling this amazing process. I was so in the zone. I didn't know where the midwives were but knew they were nearby if I needed them. My husband was building the bedside crib in another bedroom! Bless him I think he knew I was fine and he just wanted to be near but to find a way to feel useful and keep busy. 

Then I moved into our bedroom and leaned against a flat surface with a fan on full behind me. The noise and the cold air were mesmerising and I focused on it in between the rising surges which to be fair were almost continual now. It was hard work and I remember that familiar moment when I felt like I couldn't keep going any longer, though I knew that was a natural feeling and is very positive as you transition into the next stage. I was excited! I felt a huge downward pressure so I got down on my knees and leaned over the bed. I needed to push! Now!

I don't think anyone realised quite how quickly things were moving. It was about 11am, only 4 hours since my waters broke and 2 hours since the surges had started. The midwife on the landing rushed in to get her gloves on and the student ran upstairs and threw herself on the floor (best view I guess!!) as the head crowned and after a couple of breaths the shoulders came and then my beautiful boy was born. 
I sat back on my heels and lifted him up to my chest to hold him close.  I was totally elated. I felt empowered and proud and blessed and more besides. 
Then to be able to climb into bed alongside my husband and just drink in the moment was sheer perfection. I have never known anything like it. 
The delivery of the placenta and whatever else happens afterwards was done with the utmost respect for our little party of 3. Questions were kept to a minimum and tasks completed quietly. They just sat on the carpet in our room to complete paperwork then retreated downstairs on the understanding that they were still there if we needed them. A couple of hours later they said their goodbyes and off they went. 

Not much later my husband walked down the street to collect our eldest son from school and shared the wonderful news with him (and our friends, who were incredulous)! He came home, climbed into bed with us and we cradled each other in total awe and wonder.