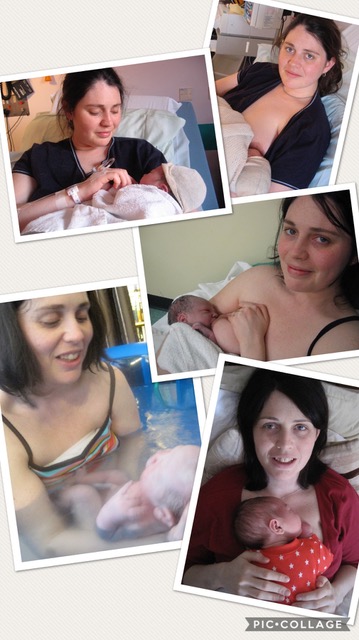 These four pictures show me and my four babies, born in 2005, 2007, 2010 and 2012. 

I can never quite get over the effect of that first experience - I can see the devastation of 16 hours of syntocinon in my eyes. It was a traumatic experience which involved augmentation 

with

 a drip and a ventouse delivery. 



I did a lot of research and my second baby was born 21mths later in water, at a freestanding Birth Centre.


My latest birth was at home. A much wanted rainbow baby after 3 miscarriages. He was breech at 36 weeks and after much soul searching (and moxibustion and lying upside down) I consented to an ECV which thank goodness was straightforward.

My first two babies were 42 and 41 weeks so when I felt niggly at 39+6 I was in total denial that it could be labour!  But it was and baby Theo, weighing 8lb and 15 oz was born just three hours later. 



I was very very lucky to have complete antenatal continuity. I saw a consultant midwife whilst pregnant with baby 2 who debriefed me and supported my second birth and went on to give me all my antenatal care through 3 miscarriages and two more babies. It was that that made every difference to this being the best experience of my life. I have since gone on to become and NCT teacher and will qualify as a midwife this summer.  My greatest hope is that I can work in a way that supports choice and increases the number of women choosing to give birth at home.