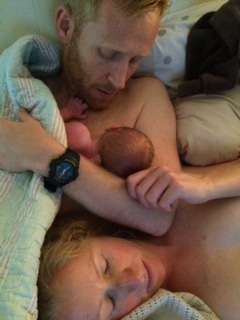 I have always been a planner and organiser. I like to be in control too. As a teacher I thrive on routine and knowing what is coming and when. So in many respects, pregnancy was unknown territory and therefore a challenge for me. 
Consequently I decided to take matters in to my own hands and learn as much as I could about birth as possible. It helped to remove some of the uncertainty. I didn't do it by reading forums and different books. I did it in a more hands-on way, by attending a weekly yoga and birth preparation class where I met friends and my future doula. Feeling my way towards what I needed to know felt a lot more useful and practical than reading and learning facts.
The day before my due date I began to get cramps. I brushed these off as simply pains and I kept doing what I'd been normally doing on maternity leave - meeting up with NCT friends and walking; walking A LOT. I was a professional athlete so exercise was in my blood.
The cramps came and went much like a period. I slept well and my due date arrived. We were off to a friend's 50th birthday party and England were playing Wales on the big TV screens - and then I noticed. Something was different. I could feel these cramps peaking and ebbing - I had in mind this image of a wave, rising and falling. That's literally what it feels like.
I didn't tell my husband until they got obviously stronger and closer together. I remember my doula telling me to carry on as normal as much as you can; to invite the contractions in, to let them do their work,  not close the door on them. Contractions are a good thing - they mean your baby is having ideas!
We left the party knowing that the baby was getting ready and in the next couple of days we would probably meet him. I had discussed with the maternity team at my hospital and my doula that I would like to labour at home for as long as possible and if everything went well to give birth there. Luke and I had prepared by borrowing a birthing pool and bought candles and made up a labour kit full of candles, oils, homeopathic remedies, flannels, eye mask and ear plugs.
At home, I retired to the bedroom for the build-up phase of the birth, 'Room 1' as my doula describes it and laid on my side on the bed with a breastfeeding pillow in between my legs welcoming the contractions in and waving them away! I literally raised my arm up and down to match my breathing. Luke called the doulas. The stage was set.. the rooms were dark and the candles were set up where the birthpool was, where it was my plan to be, once I was in active labour, 'Room 2.'
I made a promise to myself to focus - much like a sports match.  I also decided that I would not swear.  I didn't want any negativity surrounding the labour. On my in-breath I was breathing in lavender and at points frankincense; I tried different positions but always returned to the side position. I could cope and rest that way and  hands and knees felt too open for my pelvis.
I realised I HAD to be comfortable. The contractions were becoming stronger and I could feel the baby travelling down my back. He was on his way and doing such a great job! I communicated this to the doulas and they said the pool was ready if I wanted to get in. The water was wonderful. My husband was in and out of the room - getting ice when I needed it - pouring warm water on my back while the doulas sat on the sofa guiding my breathing and keeping me focused. Silence was key - the more I spoke to them the more they reassured me with actions but not with words. 
I remember enjoying sucking on frozen grapes at this point. This was the hardest point for me; the baby moving down my back caused me to lose my breathing and the doula put me back on track by telling me to make a long, loud  'gahhhhh' sound. It helped.  I was given camomile tea at this point too, with honey I think - perhaps to  relax me?
At some point ( I completely lost track of time) I communicated to the doulas that I felt the need to push. Due to a mix up at hospital, the midwives were not present (they'd been called a while back) yet I felt completely safe; everything felt right and as it should be, and the mood around me felt p perfect for what was happening - such a deeply intimate process.
I moved back into the bedroom and went on all fours on the bed, holding on the head board. This was where I sweated. I never sweated so hard! Moving out of the pool caused the contractions to
slow down a little - but I was definitely pushing now. My doulas remained quiet but I supported by them and didn't need anything more. I felt my waters broke, and as I found out later, my husband left the room as the midwife had arrived. 
Next thing I knew, she was in the room and catching our beautiful baby boy who was already half born. We named him  Max Arthur Pierce- he was 6.2lbs, red-haired and gorgeous. . The placenta was delivered with the help of raspberry  leaf tea and a few blows in to a water bottle.
People say to me 'Wow you are brave to have a home birth for your first,' and ' Wow were you not  scared when the midwives were not there?'
But A=at no point did I even consider going to hospital when the contractions started. I wanted to be in the  place where I felt the most safe and comfortable and the labour was going so well - why would I have interrupted the little man's travels by up sticking to hospital?!
I was not scared at all. If I was scared the contractions would have slowed down. I trusted the doulas and my husband and for that reason I had a fantastic experience with no stitches  required. This was not because I was special/ fit or lucky - it was because I prepared.
I am a control freak so I needed to ensure I had done everything in my powers to help our baby boy arrive in to the world as naturally as possible. Though it was incredibly hard - it was a challenge - but I like a challenge.