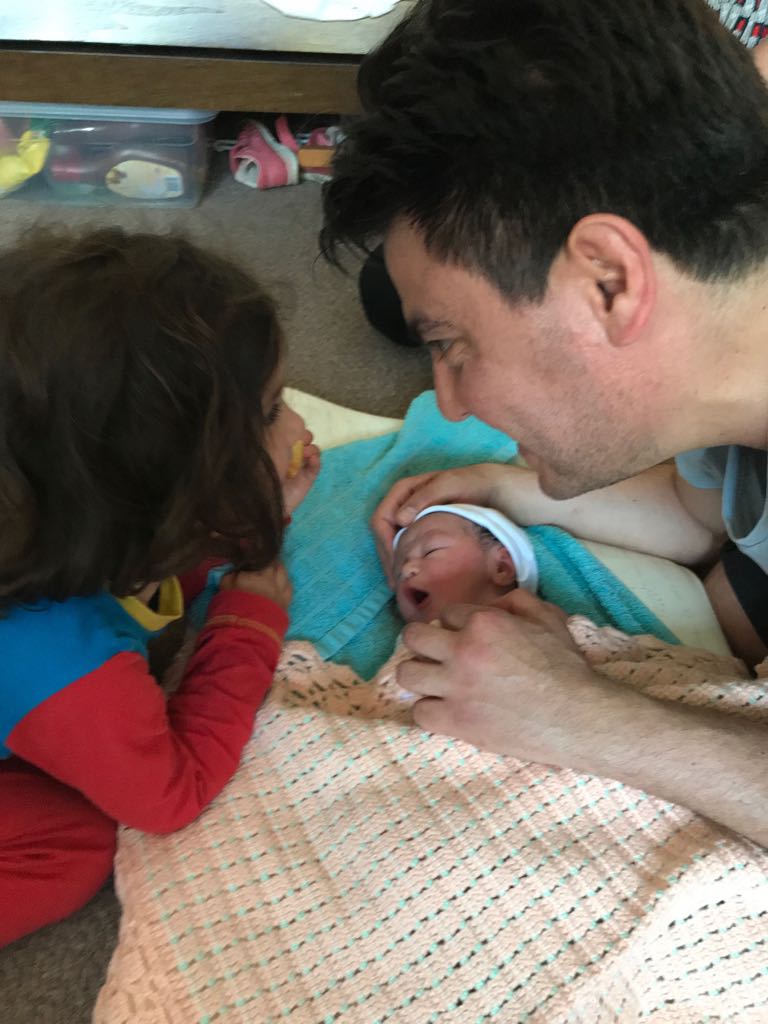 I come from a family and a culture where medicalised birth is the norm and yet, when I got pregnant with my first child I immediately knew I wanted to go for a natural/non-medicalised option in the same way that some of my friends and colleagues (together we advocate for women's reproductive rights and children's rights to healthcare) had done both in Mexico and the UK. Being surrounded by these women and their positive birth experiences really made me wish to go for 'the whole thing', I wanted to feel it all, I wanted to follow my intuition at all times, to take my time and I wanted to be left alone with my partner and minimise the possibility of having unnecessary interventions. I was also convinced this was the best start in life I could give to my child, being born in a relaxed environment, having uninterrupted cuddling/breastfeeding time after birth, taking our time to get to know each other and make our own decisions as parents.

When the midwife asked me at 12 weeks of pregnancy whether I had a preference of place of birth I mentioned home and was pleasantly surprised when she said she would refer me to the home-birth team from Kingston Hospital. I do feel very blessed to live in a country where the National Health System supports women's choices through evidence-based programmes. My husband was a bit more hesitant at the beginning, his main concern being 'what if it turned to be an emergency?' We did a lot of research, read about home-births, talked to other parents who had gone through the experience and talked to the home-birth team midwives about different concerns; the decision wasn't difficult at all in the end, our baby would be born at home if possible.

We spent the next few months talking to people we knew would be understanding and encouraging of our decision, and shielded ourselves from negative comments about labour and birth. I watched all sorts of positive birthing videos and practiced hypnobirthing, meditation and yoga. It was through the latter that I met two amazing women who expected babies at around the same time, we had very similar frame of mind and, although none of them were going for home-births, they were super encouraging and soon became my support network. Today they, their partners and their little ones are the closest to a family in the UK.

Mild contractions began on a Sunday afternoon, two days before the due date, at around 6pm and we both got super excited, I remember going to bed feeling happy and wishing this was for real (I had had some very mild contractions the previous week). I woke up at 2am on Monday morning feeling stronger contractions. As per our plan David stayed in bed and tried to sleep a bit longer. I went to the living room and started decorating it with candles, flowers, soft toys and photographs of happy events such as our wedding. I remember getting into the child's position (yoga) and getting lost into my breathing, I am aware of the pain that came with every contraction but I completely lost track of time and space. After my waters broke I moved to the bathroom, a very good friend of mine had suggested sitting in the loo facing the wall and placing a pillow on the water tank so that I could rest in-between contractions. I stayed there for most of the time, it was perfect! Being there meant we were not worried about fluids coming out since they were going into the loo plus the bathroom made a cosy, dimmed, quiet place where David and I were left uninterrupted. By this time our two midwives and doula sat in the living room. When the birth was imminent I moved into the living room; Valentina was born at around 8am and we spent at least an hour on skin-to-skin contact while the midwives completed their paperwork. She was then checked and David dressed her up, we were transferred to hospital because of a 2nddegree tear I had that needed to be checked. The day was absolutely amazing, it started snowing as we crossed Richmond Park and, even though we couldn't stay home, the experience was absolutely amazing, we couldn't have been happier.

I got pregnant with Emiliano 3 years after. Once more, we had no doubts that a home-birth would be our option. I remembered Valentina's birth as an intense but really empowering experience and somehow I was really eager to go through it again. By this time we knew many of the midwives from the home-birth team and that felt really reassuring. By week 34 I was diagnosed with gestational diabetes and from that moment the rest of my pregnancy felt like a rollercoaster of emotions; as per hospital guidelines I was referred back to hospital and would not be candidate for a home-birth anymore. Luckily my sugar levels were controlled with diet and remained stable most of the time. By week 37 I asked to be referred back to the home-birth team and was prepared to make my case, to my surprise again I had full support from the multidisciplinary team at Kingston Hospital. They organised a meeting with the Consultant Midwife, we discussed risks and alternatives and she created a midwifery management plan for a home-birth given that both baby and me were doing very well (he didn't look too big in the scans). The home-birth team lead called to confirm they were happy to support our wishes and felt comfortable with the management plan. Finally, on our last medical appointment the consultant was very reassuring and supportive of our decision. Once again I felt blessed to be seen in a hospital where patient-centred care is seen as a priority, where my concerns were heard and my choices supported.

Looking back, I think my main sorrow when I thought we would probably have to go to hospital this time round was that Valentina would not be around for her baby's brother birth. We had done so much preparation for that special moment. Her granny would come from Mexico to be her designated person, following Valentina's lead at all times. We had watched many different videos of women giving birth at home, she knew about the possible noises mummy could make, we had read lots of children's books about birth (our favourite 'Mama Midwife' by Christy Tyner, which we borrowed from an amazing mama midwife!) I made a midwifery kit for Valentina and she was actively involved during midwives' visits at home. In a way, as a mother of a girl I felt an enormous responsibility to show her that giving birth can be beautiful but at the same time I wanted her to know the reality of it. 

Emiliano took his time to come out and gave us lots of notice of his arrival. I had contractions every evening at around the same time for over two weeks. Being this the second pregnancy and having all this preparation with contractions led us to think his birth was going to be very quick and we were not mistaken. At 40 weeks and 3 days a very strong contraction woke me up at 4am in the morning, followed by a 2ndone some 5 or 10 minutes apart and I knew this was it. I called triage and they agreed to call the midwife immediately even though I had only had 3 contractions by that time. As with Valentina, I went to the toilet but did not stay there for very long, my waters went some 40 minutes after the call and I started pushing soon after that. David was amazing throughout, calmed and reassuring; following advice from triage he called 999 and started to get ready to catch Emiliano. Our amazing doula arrived soon after, and then the paramedics followed by the midwife. Five minutes after the midwife, at 5.52am, Emiliano arrived and David was relieved. 

I started attending yoga sessions later with this pregnancy but they were equally helpful. Everyone in the class was so friendly; it felt like a real community to me. My yoga teacher, was also amazingly reassuring. She recommended to have a yoga bolster to use during pregnancy and in labour, to me it was the best piece of advice I received for this second time. During labour, I leaned over the bolster which sat across my tummy and held on to the sides, somehow that position was really comforting! I also remember visualising all the amazing women that have played a significant role in making birthing such an amazing experience standing behind me and having my back: friends and colleagues from Mexico and the UK, my yoga friends and classmates, my doula, my yoga teacher, my mum, sister and aunties... It made me feel I was not alone and I now realise how important is to be surrounded by a supportive network.   
Valentina slept throughout, she woke up at around 7am only to find a baby in the living room. She immediately fetched her midwifery kit and checked that mummy was fine. She helped dress baby up and had lots of cuddles. In the end it was just perfect. We had to go into hospital so that Emiliano's sugar levels were monitored, Valentina chose to go to the childminder and meet us at home later. David and I had a very special few hours in hospital with our newborn baby and came home some 4 hours later, which we spent contemplating baby, playing with Valentina and going through what had happened again and again. 
When I tell my story to friends they tend to ask, after such intense and at times painful experiences, would you go through it again? My answer is always yes, I would do it over and over again and I wouldn't change a thing.